In order to get a clear and more structured view of the city of Amsterdam, where you can find some more information about how the city is geographically organized. To get an overview, let's divide Amsterdam into several districts: Centre, North, South, West, East, South-East, New-West, and Westpoort.
In the center of Amsterdam, you will find canals, many tourists, beautiful churches, most museums, and other cultural hotspots. In the north of the center lies Central Station, from where you can travel to every city in the country, but from here you can also easily travel from one district in the city to another.
Amsterdam North (Noord) is amongst other things home to the NDSM area, an area with sheds where many artists work, trendy cafes can be found, and where quite a lot of students live. Furthermore, North has some of the greenest parts of Amsterdam and is home to many suburban families. Last but not least, various cultures disperse across the streets and therefore there are many shops offering various cultural products. North is gradually becoming more and more booming with trendy places. 
South (Zuid) is known for its parks and business center called the Zuidas. In this beautiful part of the city live the generally more affluent people. If you like architecture you can see the beautiful architecture style of the Amsterdamse School here. The neighborhood de Pijp is also part of Amsterdam-Zuid. Here you can find trendy cafes, shops, and restaurants.
Amsterdam West (West) is home to the classic 'Amsterdammer'. Residents with a somewhat modal income live mostly in this part of the city. But also here the diversity in culture is very much to be found, which gives the West a cozy and convivial atmosphere. In Amsterdam West, quiet, beautiful residential areas alternate with busy, pleasant shopping streets. If you're looking for a place of tranquillity or busy summer days, do visit Westerpark! A great place to go for a walk or a coffee in a diverse cultural area is for example the Kinkerstraat, Jan van Galenstraat, and the Jan Evertsenstraat.
In Amsterdam East (Oost) you will find the Roeterseilandcampus, where you will be spending most of your time studying. But Science Park is also located in this district. Furthermore, Oost is mainly known for the many students that are housed here, but also for the Young Urban Professionals, the many canals, and multicultural shopping streets, like the Dappermarket!
South East (Zuidoost) is a bit further away from the center of Amsterdam. Most people who live in this area earn a little bit less than average. That is why many family homes, flats, and industrial estates are located here. If you like football: The Johan Cruijff Arena, the football stadium of AFC Ajax is also located in this area. Finally, there is a good chance that your exams will take place in the Southeast. 
New-West (Nieuw-West) is mainly dominated by green parks, houses, and hip, more alternative coffee places. However, on the other side, the area is also known by its many multicultural flats and single-family houses. South of New-West is the airport Schiphol located. 
Last but not least, Westpoort consists mainly of the port and industrial estates. However, new, modern residential complexes are also being built here on the border of this area, lying close to Amsterdam West. In principle, Westpoort is not really interesting to visit, but mainly a place for people to go to their work.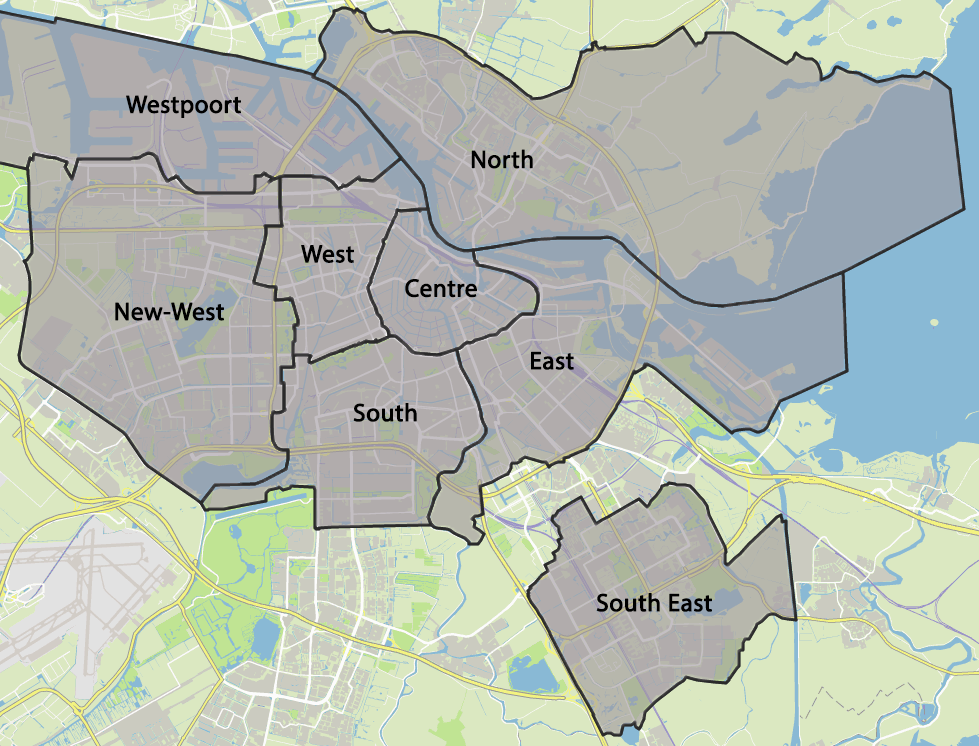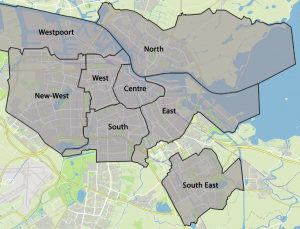 https://vspa.nl/wp-content/uploads/2020/04/stadsdelen-lijst.png
746
979
VSPA Bestuur
https://vspa.nl/wp-content/uploads/2023/02/WhiteVSPA-OLD-LOGO-PNG-NO-BACKGROUND.png
VSPA Bestuur
2021-12-22 16:15:00
2022-01-19 13:51:36
Districts of Amsterdam