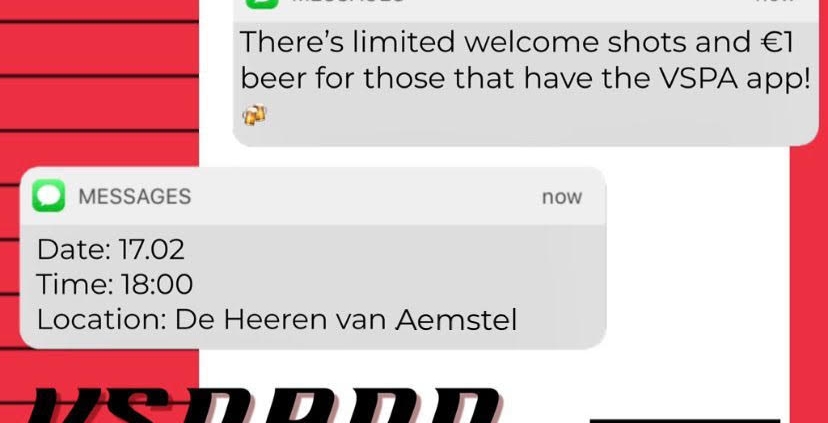 Did you miss us?
Back by popular demand with an in-person borrel (finally, might we add).
Do memes live in your head rent-free and is the idea of free alcohol one of the few things keeping you going?
Might as well join us at the Heeren van Aemstel on February 17th for our Meme themed borrel!
Embrace the shitposter within and dress up to win a prize!
Need we say more? No, but we will: waiting for you you'll find welcome shots (first come first serve) and one 1€ beer if you download the new VSPA app! Hungry? There are also pizza deals as Heeren van Aemstel has a collaboration with the Italian restaurant next door.Pizzadeal:
Pizza + 2 beer €17,50
Pizza + Pitcher beer €28,50
Pizza's:
Margherita, Funghi, Salame, Prosciutto, Peperoni, Capricciosa, Hawaii, Tonno, Gorgonzola, Mozzarella, Vegetariana, Quattro Stagioni, Quattro Formaggi
See you there!
Location: Thorbeckeplein 5
Starting time: 18:00
Reminder: Physical Identification and a valid QR code are required.
https://vspa.nl/wp-content/uploads/2022/02/0.jpg
1034
828
VSPA Bestuur
https://vspa.nl/wp-content/uploads/2023/02/WhiteVSPA-OLD-LOGO-PNG-NO-BACKGROUND.png
VSPA Bestuur
2022-02-10 16:36:32
2022-02-10 16:37:46
Borrel: Meme and VSPApp