Carrièrecie - Carreer Committee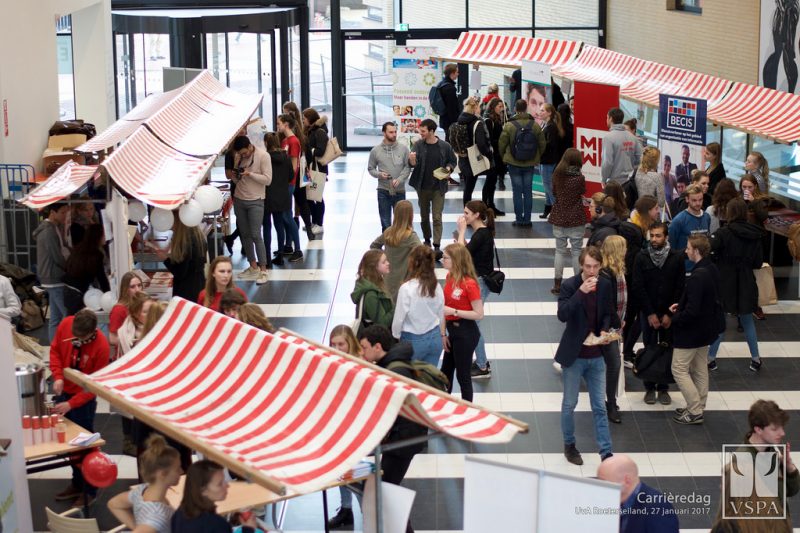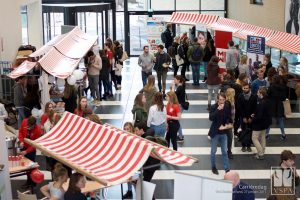 There are many graduate psychologists in the Netherlands and just a few places to work. That is why the VSPA wants to make sure that you are well prepared in addition to the study in other ways to find a nice and suitable job. The Career Committee (Carrièrecie) will organize a career day. On this day, there are several things to offer to get off with the course of your career. The career day is an event for at least 100 students and is organized in collaboration with the UvA and the SPS-NIP. So a big event can be made of it. Join the Carrierecie and discuss with your committee which companies are fun for VSPA members, how the promotion is being done and to make nice contacts within the VSPA. By organizing the career day you are busy for about one hour a week. This increases when the event comes closer.
Congrescie - Conference Committee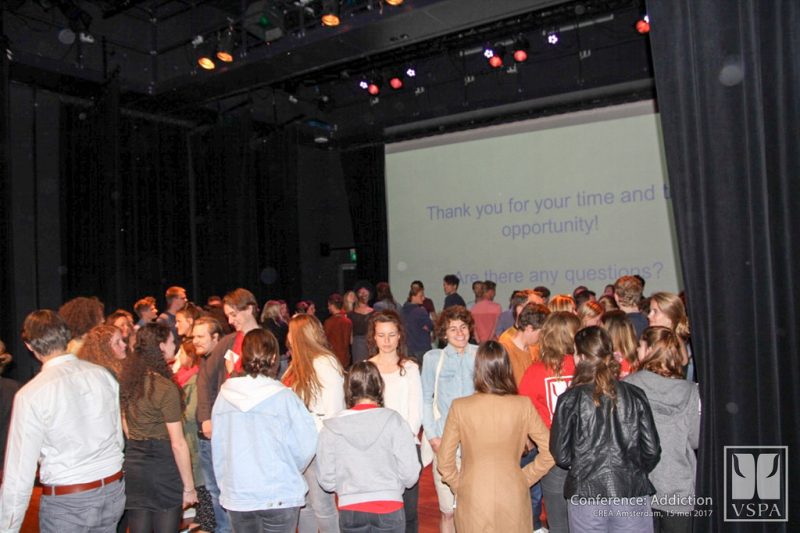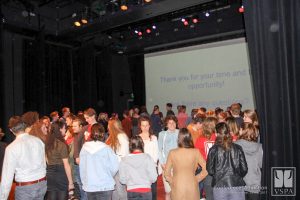 As a conference committee member you organize a congress about a fascinating psychological subject. Previous years there were themes such as: 'Generation Y', 'Food for thought', Irrationality ',' Autism ',' Love and Sex ',' Psychology of Religion ',' Identity', 'Addiction' and 'Loneliness'. Together with your committee, you will take care of both foreign and foreign speakers, sponsors, the location, the lunch and even more to make it a successful day. With the organization of the conference you are busy for about two hours a week, this occurs when the event comes closer. Would you also like to organize one big and great event with the Congrescie? Then sign up now!
Excurcie - Exursion Committee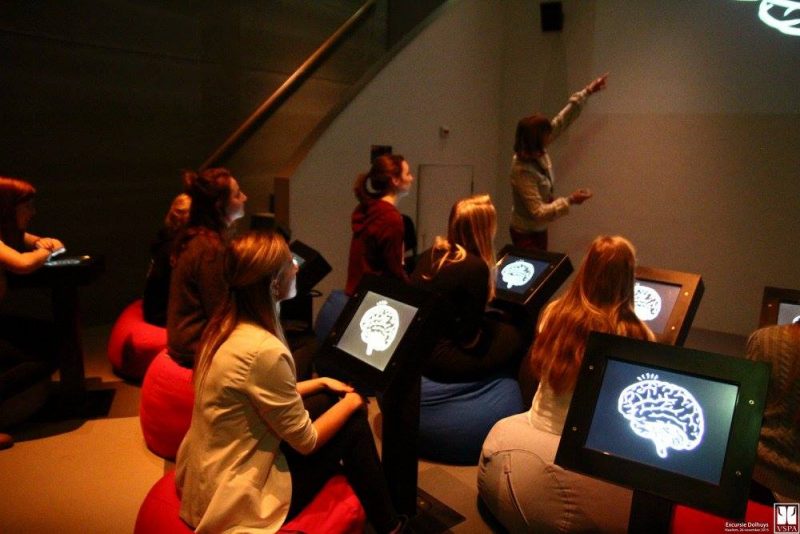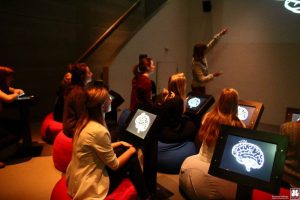 The excursion committee (Excurcie) organizes four fun psychological excursions. As an Excurcie member you get a lot of freedom to organize things. You can think of anything to do, as long as it has to do with psychology. So be creative! The goal is to gain extra psychological knowledge in a fun way. For example, by visiting a prison, attending an experimental chiropractic therapy or attending the Dolhuys, members can come into contact with them in an interactive way. As a committee you can therefore decide for yourself what kind of excursions will take place, you will pick out the transport and arrange the promotion. You are working as an Excurcie member for about one hour a week. If you want to help organize fun trips that are related to your studies, sign up now!
Lezingcie - Lecture Committee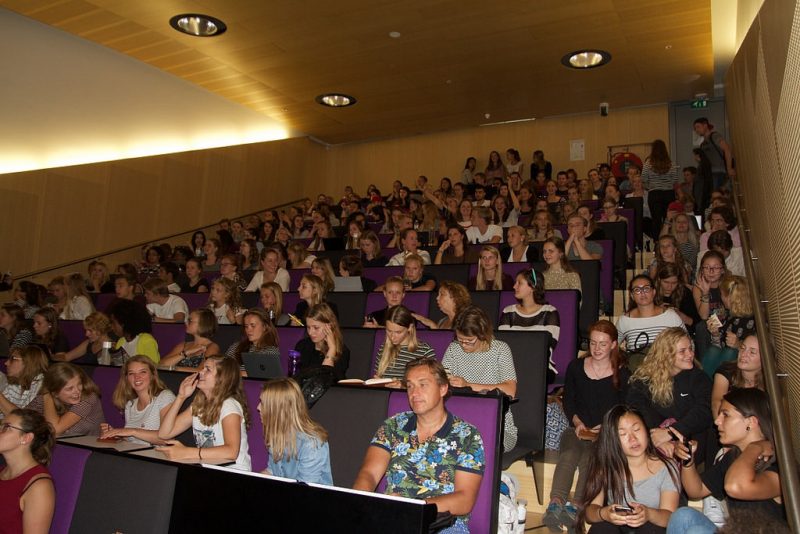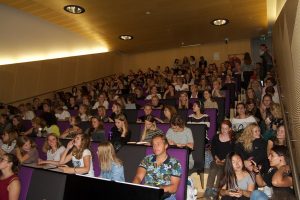 The Lecture committee organizes lectures. These are four lectures throughout the year, each with a different subject. The committee will therefore come up with four fun topics, look for speakers, see where the lectures can take place and also arrange for promotion and sponsoring. As a committee member you are completely free to choose the subject as long as the lecture has something to do with psychology. Here you can enjoy brainstorming together with your committee and together create great lectures. The previous years have shown that you can really discuss any topic at a lecture and that you can therefore work very creatively. For the subjects you can think of for example: fetishism, creativity, effects of music, mindfulness and many more. The lectures are spread throughout the year, but especially when the lecture is approaching you are working on it, and then about two hours a week. If you would like to organize these interesting and fun lectures with the lecture committee, then sign up now!
Familiedagcie - Family Day Committee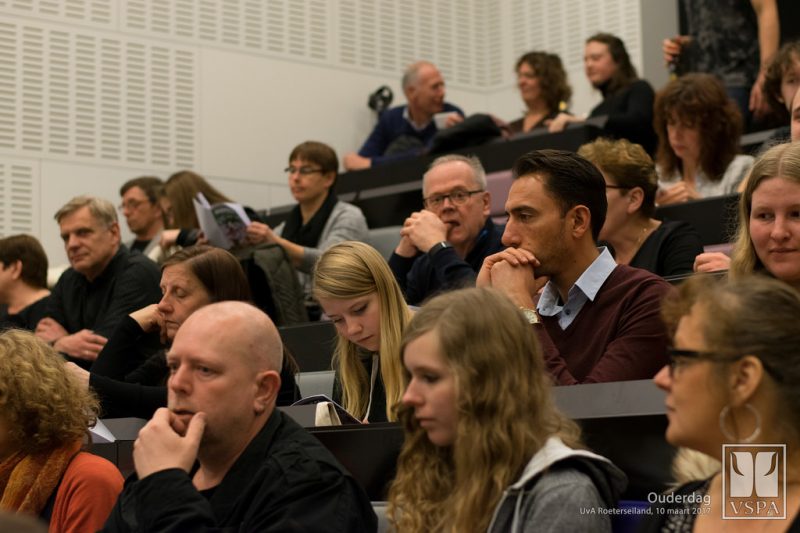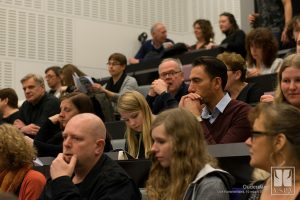 Can you read my mind? Are you analyzing dreams all the time? Do you, as a student, also learn something besides all the parties and 'borrels'? Can you predict my behavior? Parents sometimes have no idea what we all do in the study or at campus. The VSPA would like to offer members the opportunity to show their parents what we all learn, do and experience. The Parents Day organizes an evening on which the parents follow an example lecture, get a guided tour at the campus and close in the student bar to discuss the experiences while having a beer. With the organization of the parents' day you are busy for about one hour a week, this occurs when the event gets closer. Would you like to let your and other people's parents learn more about studying psychology? Sign up now!
Studiereiscie - Study Trip Committee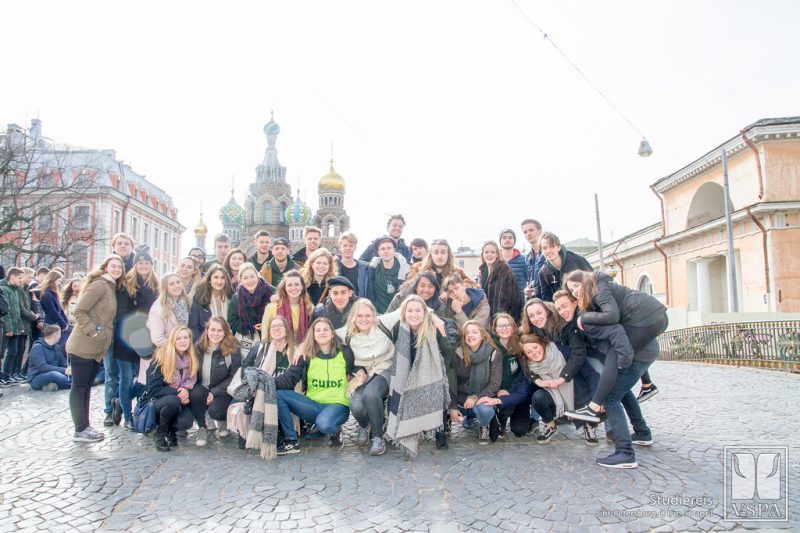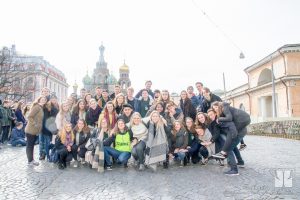 Thé trip of the year is the annual study trip. Belgrade, Prague, Seville, Vienna, Krakow, Budapest, Istanbul, Athens and St Petersburg are examples of cities we have visited in recent years. With a group of 40 to 50 students you travel to one of these cities or a whole other city. Here you visit the local psychology faculty. This way, students can get a good idea of ​​what the study looks like abroad. In addition, there are also many attractions of the city visited and the delicious food, drinks and nightlife of the city discovered. As a Study Trip Committee, it is very nice that you can arrange the entire trip, have contact with the local university, arrange the hostel, order airline tickets and speak to the local bars for a pub crawl. By organizing the study trip you are busy for about two hours a week, this is more when the event comes closer.
Workshopcie - Workshop Committee
The workshop committee (Workshopcie) is a relatively new committee that, through workshops, the members want to learn other fun and interesting things besides the standard courses. There are many different workshops but this is not very well known among students. As a workshop committee you can decide which workshops are fun for VSPA members: photoshopping, dancing, painting or applying for jobs, you can learn it all! There will be four workshops, when they come closer you are probably organizing two hours a week as a workshop member. If you would like to collaborate with other studious students for this, then sign up!
Professionalisacie - Professionality Comittee
Het doen van vrijwilligerswerk is een leuke leerzame ervaring, het staat goed op je CV en is vooral heel fijn omdat je echt kan zien hoe een klein beetje ondersteuning andere mensen echt kan helpen. Dit jaar gaat de Altruiscie samen met de Regenbooggroep kinderen helpen die het thuis zwaar hebben. Hiernaast kan de Altruiscie ook kijken of ze op nog andere manieren de VSPA'ers actief de wereld kunnen laten verbeteren. Wil jij de VSPA'ers helpen de wereld te helpen, meld je dan aan voor de Altruiscie!
Designcie - Design Committee
The VSPA want to focus more on releasing merchandise and gadgets, to expend the brand. For this we need creative students, who would like to design, order and release for instance VSPA hoodies, t-shirts, doppers, mugs and whatever you can think, without restrictions. Students who feel like the study does not serve enough room to use their creativity are always welcome to join this committee.
Supportcie - Support Committee
The Support Committe is a broad committee voor diehard VSPA'ers. This commissie is a cornerstone of the association and therefore deserves a special place in our heart. The ways in which the Support Committee contributes is by cooking for the General Members Assembly, so members attending can eat for free, promoting the VSPA on days like the matching days and the VSPAcquintance, as well as organizing the 'VrijMiBo' (Friday Afternoon Borrel) with the UvA employees. In short: essential, diverse and fun!
Redaccie - Editorial Committee
A few times every year, the VSPA releases a digital newspaper, with reports of activities that took place at the VSPA. Besides, the newspaper describes different developments inside the VSPA, there's columns and interviews with members (maybe you will be interviewed  once!) and teachers. The Redaccie consists of people who like writing bits for the newspaper and who find it fun to partake to lots of VSPA-activities. Does it sound fun to write or interview people? Then be sure to sign up to the Redaccie!
Accie - Activity Committee
The Accie provides four great activities in the year. The Accie gets a lot of freedom in organizing events from A to Z. Last year, for example, members could enjoy a walk-in dinner, an evening stand-up comedy and disco bowling. Of course you can participate in these activities yourself as a member of the Accie!!
Borrelcie - Borrel Committee
The borrel is a nice place to meet your fellow students while enjoying a drink and to see each other outside study hours. Twice a month a borrel is organized by the VSPA on Wednesday or Thursday evening in the Heeren van Aemstel behind the Rembrandtplein. After the borrel, the party is often continued in the entertainment area of Amsterdam! They take place in the evening and often take different forms. For example, the Borrelcie is free to organize themed borrels. Examples include the Halloween Borrel, the Buddy Borrel and the BBQ Borrel. De Borrelcie uses its creativity and comes up with the best themes!
Feestcie - Party Committee
Four times a year, the Party Committee organizes big psychology parties in Amsterdam. These parties are not only attended by psychology students, but are also appreciated by students from other studies. A selection of many successful parties: 'Gabbers' in the Up and de Kring, 'Fitness Fever' in Studio 80, 'Grease' in Chicago Social Club and 'Fout, Fouter, Foutst' in the Up and Circle. The tasks of committee members include booking the locations, arranging the best DJs, coming up with themes and making a nice poster.
Galacie - Prom Committee
The VSPA has organized the annual gala event for a number of years now. While you usually see your fellow students walking in their daily clothes at the university, you come to this gala in your most beautiful suit/dress. The evening starts with a big dinner in a beautiful location and is then continued with a big party until the late/early hours. This beloved event obviously needs some organization: arranging a location, catering and DJs is of great importance.
Liftcie - Hitchhike Committee
Every year a weekend is allocated for the big hitchhike competition event. Very early on a Friday morning, the VSPA hitchhikers gather in one place and hear the destination they have to  reach.. 3 … 2 … 1 … AND GO !! At the start sign you sprint with your hitchhike partner on one hand and your thumb up on your other hand to the location where you think you are the first ones to be picked up. The hikes  turn out to be a great experience every year where every team encounters all kinds of things on the road. As a participant you will only hear what the destination is just before the start signal. You also get on-the-road assignments such as massaging your driver and other crazy assignments where you can earn points with. Upon arrival, the participants stay at the destination during the weekend to enjoy all that this place has to offer. This weekend is completely taken care of by the Liftcie. The committee chooses a destination and accommodation that is about 700 kilometers from Amsterdam. The members of the Liftcie have a hard task to keep this all secret for everyone. Examples of previous destinations are Strassbourg, Berlin, Aalborg (Denmark), Prague, Munich and Hamburg.
Muzicie - Music Committee
The Muzicie is the most musical committee of the VSPA. The Muzicie on average meets every two weeks to brainstorm and organize activities. Mainly they organize the monthly Live Music Night in which every random visitor, together with the Muzicie and the rest of the VSPA, can enjoy music made by the members themselves while enjoying a drink! Furthermore, the Muzicie aims to organize other activities related to music. Going to concerts together? Band testing? Performances at the get-togethers? It is all possible at the Muzicie.
Skicie - Ski Trip Committee
One of the two big trips the VSPA organizes is the ski trip. A week full of ski-ing, snowboarding, throwing snowballs, cheesfondue and drinking Jägermeisters with your wool hat and ski goggles on in aprés-skibars: the skitrip is always a great success! As committemember of the Ski Trip Committee you are responsible for organising a wonderful week by for instance plotting activities for during the skitrip, designing the poster, look for sponsors for the trip and pick the location and arrange the stay. The goal of the trip is that it is accesible for experienced skiers and for people who have never seen snow in their life.
Sportcie - Sport Committee
De Sportcie is THE committee for all sports enthusiasts. The Sportcie organizes three major events during the year, that are all related to sport. Last year, for example, members could participate in an afternoon polder sport and a special trampoline experience in Bounz. Next year three afternoons/evenings can be filled by this committee! Make your creative sporting brain work and think with others what these activities will look like!
Tripcie - Trip Committee
The Tripcie is the committee that is responsible for organizing a weekend trip in a nice foreign city at the beginning of the academic year. The goal is to have a short and cheap weekend early in the year to a city  where fun activities can be enjoyed. This weekend away is the most low-threshold way to make nice contacts on a trip. Ideal for first-year students, who have been present in large numbers over the years. Apart from the stay, the Tripcie is engaged in arranging transport and activities at the destination itself. The Tripcie is put together during the year to arrange the trip of the coming year.
Cultuurcie - Culture Committee
Sometimes experiencing culture and art is for students a bit too big of a step and for making it more accessable the Culture Committee is established. This committee will be busy yearround by arranging four different cultural happenings, like a museumvisit, a comedy club evening or a theater night. What is a better way to experience art and culture than with your fellow students for a student price? In short this committee is perfect if you like art and culture and want to share that with your fellow students.
Internationalisacie - International Committee
Psychology has become an international study this year, which means the association will become and even more diverse melting pot of different cultures. It would be a shame if this diversity would not be used by learning from eachother  and that is why this committee is established. The International Committee will be busy with organizing events on which students can learn about other cultures. You can think in termsof a culture themed pubquiz or a international foodcourt, anything is possible. This committee is perfect for students who are proud of their culture and want to share that or students who want to learn about the rest of the world.