https://vspa.nl/wp-content/uploads/2022/10/Dark-Simple-Campfire-Outdoors-Instagram-Post.png
1080
1080
VSPA Bestuur
VSPA Bestuur
2022-10-26 16:59:26
2022-10-26 17:38:40
Third Years (plus) Weekend – 2022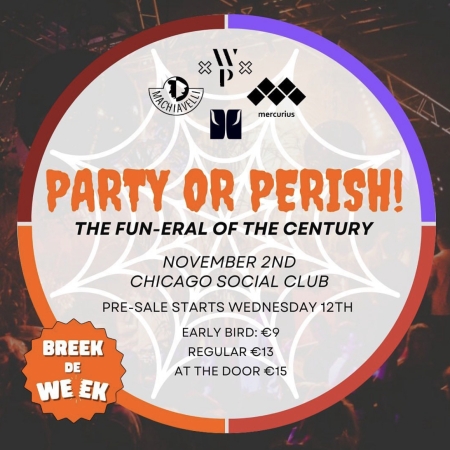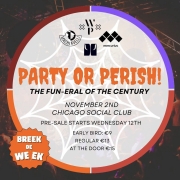 Are you ready for the FUN-eral of the century?
VSPA, Machiavelli and Mercurius are working together to host a party you don't want to miss!
So join us in your best Halloween outfit on the 2nd of November at the Chicago Social Club to party or to perish!
Buy your tickets here, via our partner website
Early bird tickets cost €9,- and end on tuesday. Be quick because there are only a limited amount available. After they run out, the normal ticket sale will start for €13,- per ticket.
Excited to see you there!
https://vspa.nl/wp-content/uploads/2022/10/IMG_8FDC7C6BA8EB-1.jpeg
1158
1170
VSPA Bestuur
VSPA Bestuur
2022-10-16 15:05:37
2022-10-16 15:05:37
The FUN-eral of the Century!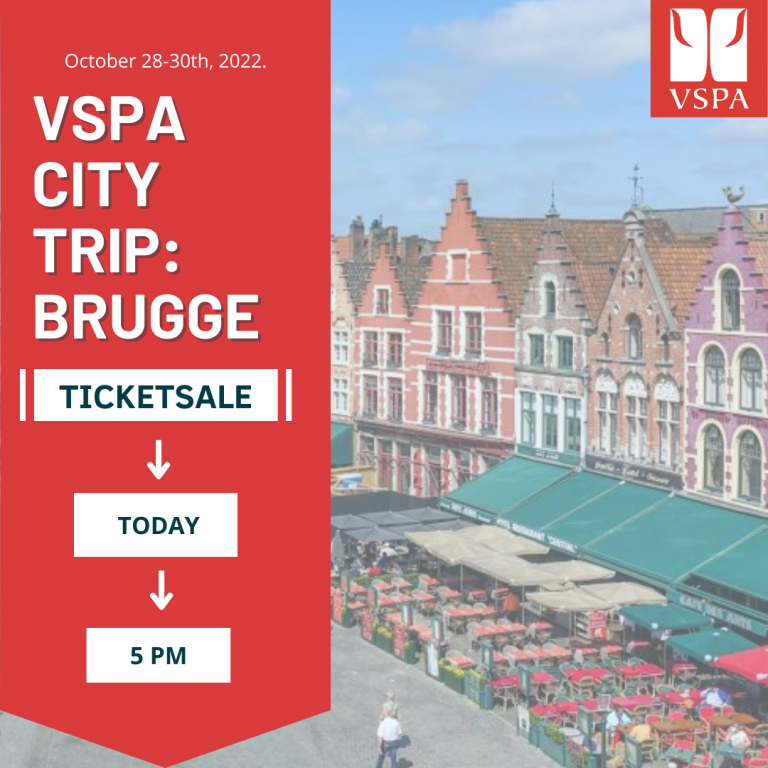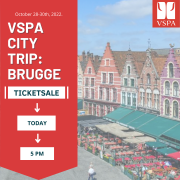 Haven't been on a city trip with friends in a while, or want to meet new people while exploring a new city? This is your chance to join the yearly VSPA city trip, this time with Bruges as our destination! In the weekend, you will be exploring all the nice local breweries, Belgian chocolate and small streets of Bruges along with 38 other students!
The weekend will take place at the 28th until the 30th of October!
We are leaving from IWO right after the first years exam, so we will be leaving at 22:30 pm.
During the weekend, we will be staying at a nice cosy hostel in Bruges, where we will spend 2 nights. On Saturday we will visit a very tasty museum :) After that, we will explore the city by a walking tour, guided by our very own committee! Further we'll be having some nice dinner with all of us, after which we will do some very necessary bar hopping! Sunday is a chill day with a lot of optional activities, so everyone can do as the please.
Overall it's going to be a very enjoyable weekend, we're very excited!
If you get a ticket, there will be a big meeting with all the people that are joining the trip, including the committee, at Thursday 20th of October, from 6 – 7 pm. Here you will get some additional info on the weekend.
We hope to see you there!
Love,
The City Trip Committee
https://vspa.nl/wp-content/uploads/2022/10/image0.png
1080
1080
VSPA Bestuur
VSPA Bestuur
2022-10-11 12:34:08
2022-10-15 11:20:33
City Trip, Brugge '22
VSPA
Studievereniging VSPA
Nieuwe Achtergracht 129b
Amsterdam
UvA, REC Gs.25
020 525 67 90
info@vspa.nl
Opening Hours
Feb. 6 – 10th
Monday: Closed
Tuesday: Closed
Wednesday: Closed
Thursday: Closed
Friday: Closed
Calendar
7 February 2023

Ski Trip Information Night

7 February 2023 17:00 - 18:00
GS.11 REC

8 February 2023

Career Day!

8 February 2023 11:00 - 19:00